Signature Series
Gil Parris Signature GPS
Description
The Reverend Gil Parris GPS is the ultimate vintage-meets-modern guitar. The body may look traditional, but the guitar is loaded with the Fishman Fluence Single Width pickups and stacked with loads of Reverend features. These active pickups are noiseless for historic tones without the hum in two distinct voicings: voice one is sweet and warm, while voice two is muscular and beefy. Switch between the two with a simple push-pull knob in the bridge tone control. Sporting a volume control, a neck and middle tone control, and a Reverend-specific bridge tone control, this guitar covers a ton of traditional sounds for any guitarist who likes to explore new technology.
Specs
Pickups
Fishman Fluence Single Width Set
Bridge
Wilkinson WVS50K Tremolo (10.8 mm Spacing)
Fingerboard
Rosewood or Roasted Maple 12" Radius
Frets
22 - 0.110"W x 0.050"H
Truss Rod
Dual Action - Headstock Access
Controls
Volume, Tone (neck & middle), Tone (bridge). Push/Pull knob for tone shift.
Case
Two-Toned Teardrop (Available Separately)
Features
Fishman Pickups
The Fishman Fluence Pickup Set. The most coveted, historical tones without the hum. From vintage sweetness and clarity to muscular overwound punch, in the same guitar.
Roasted Maple Neck
Roasted Maple is heat treated at over 300° F to remove sugars, moisture, and impurities. This maple is lighter, more stable, and has a beautiful caramel color. The result is an exceptional maple neck that will require less seasonal adjustment, and boasts a rich vintage look!
Korina Body
Korina (aka White Limba) is a medium-light weight wood, highly prized for consistency and tonal qualities. Often found in boutique and vintage instruments, all Reverends feature Korina bodies. A highly resonant wood, Korina is a key factor to producing our lively, responsive instruments that are rich in harmonics.
Dual-Action Truss Rod
Our dual action rod adjusts in both directions, allowing back bow or forward bow. This assures correct adjustment range is possible regardless of string tension, extreme climate conditions, or the effects of long term aging. It's also located at the headstock for easy access.
Pin-Lock Tuners
A thumbwheel under the tuner pushes a steel pin up through the post, locking the string in place for exceptional tuning stability and super-fast string changes.
Initialed Headstock
Every Reverend is hand initialed and serial numbered on the back of the headstock by one of our highly skilled technicians who sets up, inspects, and tests every instrument.
Thin Finish
The paint on a Reverend is thinner than most production guitars, allowing the body to vibrate more freely, for a more resonant and lively tone. Thick finishes might look a little 'slicker', but at Reverend, tone is a top priority. Our finish is also UV cured, which means it's 100% dry from day one, unlike vintage-style nitrocellulose finishes, which can take years to fully dry.
Six-Bolt Neck Plate
Two extra bolts increase mounting pressure of the neck by fifty percent. This makes a stronger neck connection, which improves sustain, tuning stability, and neck alignment.
Boneite Nut
We use "Boneite," a synthetic bone nut, that is more consistent than natural bone, on all Reverend instruments. It reduces friction, allowing the strings to slide through the nut slots smoothly, improving tuning stability.
Triple-Tree String Tree
This patent-pending string tree has an extended bar to hold down three strings at a time with just one tree, eliminating G string buzz in the nut slot.
Wilkinson WVS50K Tremolo
Features include saddles that lock to the baseplate, adjustable arm swing tension, and a push-in/no freeplay arm. Combined with our boneite nut and pin-lock tuners, it stays in tune even under aggressive whammy action.
Played By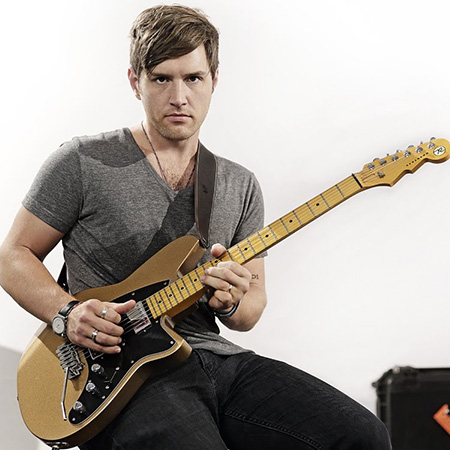 Browan Lollar
St. Paul And The Broken Bones