Signature Series
Pete Anderson PA-1
Description
Reverend teamed up with country/roots-rock guitar legend and Grammy winning artist/producer Pete Anderson to design a hollow body guitar. Pete wanted a classic hollow sound and look, but with the ability to play at higher volumes without uncontrollable feedback. So we developed the Pete Anderson Signature PA-1 with the innovative Uni-Brace, that not only addresses feedback, but also enhances sustain, durability, and clarity. Other unique features of this guitar include: bushing mounted bridge, "R" embossed knobs, back sprayed/logoed pickguard, and 15th fret neck/body joint for better high-fret access. Get one, and create your own legend.
DISCLAIMER: Satin clear coats and nickel hardware as seen on the Pete Anderson signature guitars have certain physical characteristics that predispose them to aging and looking like a vintage instrument more rapidly than other finishes. As with all Reverend signature models, the choices to use these materials were made by the artist and are included on these guitars to better fit their vision of an ideal instrument.
This model is temporarily out of production
Specs
Body
Laminated Maple Back/Sides, Laminated Spruce Top
Pickups
9A5 Bridge, 9A5 Neck
Bridge
Bigsby B-70 with Roller Bridge
Fingerboard
Rosewood - 12" Radius
Frets
22 - 0.110"W x 0.050"H
Truss Rod
Dual Action - Headstock Access
Controls
Volume, Tone, Bass Contour, 3-way
Features
Custom Pickups
We design our own proprietary custom pickups, to achieve the best tonal match with our instruments. Reverend pickups are also specifically designed for each position, for balanced volume and tone when switching.
Uni-Brace
This korina brace is full body depth, connecting the top and back. It reduces uncontrollable feedback, improves sustain and clarity, while maintaining full hollow body tone. It also increases long term structural integrity by preventing the neck block from rotating forward from string tension.
Bass Contour / Reverend Embossed Knobs
This passive bass roll-off is great for tightening up the low end, or re-voicing the pickups. It can make a humbucker sound like a single-coil, or give a P-90 that classic twang. Variable pickup voicing at your fingertips!
Pin-Lock Tuners
A thumbwheel under the tuner pushes a steel pin up through the post, locking the string in place for exceptional tuning stability and super-fast string changes.
Thin Finish
The paint on a Reverend is thinner than most production guitars, allowing the body to vibrate more freely, for a more resonant and lively tone. Thick finishes might look a little 'slicker', but at Reverend, tone is a top priority. Our finish is also UV cured, which means it's 100% dry from day one, unlike vintage-style nitrocellulose finishes, which can take years to fully dry.
Initialed Headstock
Every Reverend is hand initialed and serial numbered on the back of the headstock by one of our highly skilled technicians who sets up, inspects, and tests every instrument.
Bigsby With Soft Touch Spring & Roller Bridge
Our Bigsby tremolo system feels great and stays in tune all night long! We install a custom Soft Touch spring into all our Bigsbys for easy, smooth action. Our roller bridge works with our Pin-Lock tuners and Boneite nut to create a system that strings glide through every time.
Boneite Nut
We use "Boneite," a synthetic bone nut, that is more consistent than natural bone, on all Reverend instruments. It reduces friction, allowing the strings to slide through the nut slots smoothly, improving tuning stability.
Dual-Actin Truss Rod
Our dual action rod adjusts in both directions, allowing back bow or forward bow. This assures correct adjustment range is possible regardless of string tension, extreme climate conditions, or the effects of long term aging. It's also located at the headstock for easy access.
Custom Jack Plate
Our proprietary jack plate features four mounting screws, instead of two. The extra screws prevent the plate from tearing out of the body. Made of steel for durability, the laser etched logo adds an extra touch of class!
Pure Tone Jack
All Reverends use an upgraded jack by Pure Tone Technologies. A standard jack has single contacts, but the Pure Tone jack has dual contacts for improved grip, audio signal and reliability. The most dependable guitar jack available.
Treble Bleed Circuit
All Reverend guitars have a treble bleed circuit, preserving the treble when you roll back the volume control. When you roll back a standard volume control, the tone loses treble and becomes dull sounding. Now you can turn down and still sound great!
10% Pots
We use Alpha control pots with a +-10% rating. While a typical pot is +-20%, our pots are built to tighter specifications, making them more consistent. Typically used in expensive boutique guitars, but standard issue in all Reverends.
10% Poly Caps
We use caps with a +-10% rating, while a typical cap is +-20%. Our caps are made to tighter specifications, so they're more consistent. Made of polyester, they're also longer lasting, and less affected by temperature than cheaper ceramic caps. Typically used in expensive boutique guitars.
Played By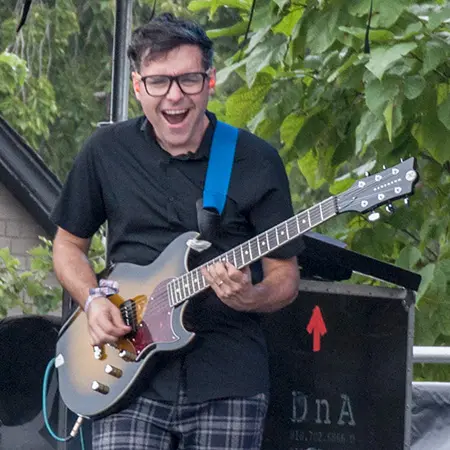 Alex Stern
Big D And The Kids Table