Description
The Dub King produces the thick, deep tone you'd expect from a short scale neck and semi-hollow body. But unlike most basses of this type, it has excellent clarity and sustain thanks to the five-piece neck and high mass bridge. You can even solo the Split Brick neck pickup for super deep thump, and the split pole design keeps it focused.
Specs
Body
Semi-Hollow Korina, Solid Spruce Top
Pickups
Thick Brick Bridge, Split Brick Neck
Bridge
String-thru-body or Top-load, 3/4" spacing.
Neck
5-Piece Korina/Walnut
Fingerboard
Rosewood - 12" Radius
Frets
21 - 0.110"W x 0.050"H
Truss Rod
Dual Action, Headstock Access
Tuners
Hipshot Ultralight, 1/2" Dia. Shaft
Controls
Volume, Tone, Pickup Pan
Case
Lg Two-Toned Teardrop (Available Separately)
Features
Custom Pickups
We design our own proprietary custom pickups, to achieve the best tonal match with our instruments. Reverend pickups are also specifically designed for each position, for balanced volume and tone when switching.
Five Piece Neck
Our bass necks are constructed from five pieces of wood laminated lengthwise. This creates a stronger and more stable neck that's less prone to warping, twisting, and humps over the life of the instrument.
Korina Body
Korina (aka White Limba) is a medium-light weight wood, highly prized for consistency and tonal qualities. Often found in boutique and vintage instruments, all Reverends feature Korina bodies. A highly resonant wood, Korina is a key factor to producing our lively, responsive instruments that are rich in harmonics.
Thin Finish
The paint on a Reverend is thinner than most production guitars, allowing the body to vibrate more freely, for a more resonant and lively tone. Thick finishes might look a little 'slicker', but at Reverend, tone is a top priority. Our finish is also UV cured, which means it's 100% dry from day one, unlike vintage-style nitrocellulose finishes, which can take years to fully dry.
Hipshot Ultralight Tuners
These tuners have a housing made of aircraft grade aluminum that makes them extra-light. The difference in weight can be as much as 2-3oz less in the headstock, which means a more balanced bass that's more comfortable to play. And the tone is great! Your bass is more defined and enhanced with the Hipshot Ultralites.
High Mass Bridge
Our bridge features heavy duty saddles in combination with a massive base plate. This substantial mass of metal enhances clarity and attack, and produces bell-like sustain. It's also a versatile bridge, that can be strung string-thru-body or top-load.
Initialed Headstock
Every Reverend is hand initialed and serial numbered on the back of the headstock by one of our highly skilled technicians who sets up, inspects, and tests every instrument.
Pickup Pan Control
This control allows you to blend the two pickups with one knob. Roll in the bridge pickup for more midrange punch, or bring up the neck pickup for more low thump and open highs. Dialing in the perfect tone has never been easier!
Custom Dome Knobs
Our proprietary knobs feature a lower profile which is less likely to be accidentally hit by the player's hand, and the white dot lets you easily see where your knob rotation is set.
Boneite But
We use "Boneite," a synthetic bone nut, that is more consistent than natural bone, on all Reverend instruments. It reduces friction, allowing the strings to slide through the nut slots smoothly, improving tuning stability.
Dual-Action Truss Rod
Our dual action rod adjusts in both directions, allowing back bow or forward bow. This assures correct adjustment range is possible regardless of string tension, extreme climate conditions, or the effects of long term aging. It's also located at the headstock for easy access.
Custom Jack Plate
Our proprietary jack plate features four mounting screws, instead of two. The extra screws prevent the plate from tearing out of the body. Made of steel for durability, the laser etched logo adds an extra touch of class!
Pure Tone Jack
All Reverends use an upgraded jack by Pure Tone Technologies. The Pure Tone jack has dual contacts for improved grip, audio signal and reliability. The most dependable guitar jack available!
10% Pots
We use Alpha control pots with a +-10% rating, tighter and more consistent than a standard pot. Typically used in expensive boutique guitars, but standard issue in all Reverends.
10% Poly Caps
We use caps with a +-10% rating. Our caps are made to tighter specifications, so they're more consistent. Made of polyester, they're also longer lasting, and less affected by temperature than cheaper ceramic caps. Typically used in expensive boutique guitars.
Played By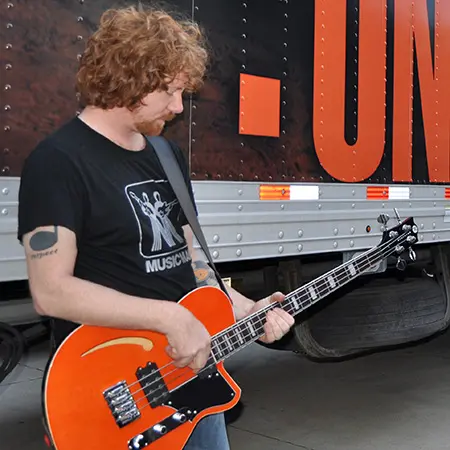 Aden Bubeck
Miranda Lambert