Signature Series
Billy Corgan Signature
Description
When you set out to do something this epic, you don't repeat yourself. A fresh design with classic and modern elements that come together in a unique way. The raised center section with thinner wings and strategic chambers under the pickguard add resonance and reduce weight, while a string-thru body bridge provides maximum sustain and percussive attack. Railhammer Billy Corgan Signature Pickups meld P90 snap with humbucker chunk, and no hum! And, finally, the body is topped with a segmented aluminum pickguard for a modern, yet timeless look. Let this guitar inspire you.
DISCLAIMER: Pearlescent finishes like the Pearl White used on the Billy Corgan Signature have certain physical characteristics that predispose them to aging and looking like a vintage instrument more rapidly than other finishes. As with all Reverend signature models, the choices to use these materials were made by the artist and are included on these guitars to better fit their vision of an ideal instrument.
Specs
Pickups
Billy Corgan Bridge, Billy Corgan Neck
Fingerboard
Roasted Maple - 12" Radius
Frets
22 - 0.110"W x 0.050"H
Truss Rod
Dual Action - Headstock Access
Controls
Volume, Tone, Bass Contour, 3-Way
Case
Two-Toned Teardrop (Available Separately)
Features
Railhammer Pickups
Rails under the wound strings for tight lows. Poles under the plain strings for fat highs. This revolutionary design from Reverend founder Joe Naylor delivers exceptional clarity and punch, that will get you heard loud and clear!
String Thru Body Bridge
String-thru body design and stainless steel saddles for a percussive attack that provides maximum sustain and a ringing, solid tone.
Low Profile Knobs / Bass Contour
All the controls feature the classic low profile knob shape, rendered in a chrome finish. The passive Bass Contour is great for tightening up the low end, or re-voicing the pickups. Variable pickup voicing at your fingertips!
Pin-Lock Tuners
A thumbwheel under the tuner pushes a steel pin up through the post, locking the string in place for exceptional tuning stability and super-fast string changes.
Initialed Headstock
Every Reverend is hand initialed and serial numbered on the back of the headstock by one of our highly skilled technicians who sets up, inspects, and tests every instrument.
Chambered Korina Body
Korina (aka White Limba) is a medium lightweight wood, highly prized for consistency and tonal qualities. It is a key factor to producing our lively, responsive instruments that are rich in harmonics. On the BC-1 there are strategic chambers under the pickguard to add even more resonance and reduce weight.
Thin Finish
The paint on a Reverend is thinner than most production guitars, allowing the body to vibrate more freely, for a more resonant and lively tone. Thick finishes might look a little 'slicker', but at Reverend, tone is a top priority. Our finish is also UV cured, which means it's 100% dry from day one, unlike vintage-style nitrocellulose finishes, which can take years to fully dry.
Boneite Nut
We use "Boneite," a synthetic bone nut, that is more consistent than natural bone, on all Reverend instruments. It reduces friction, allowing the strings to slide through the nut slots smoothly, improving tuning stability.
Triple-Tree String Tree
This patent-pending string tree has an extended bar to hold down three strings at a time with just one tree, eliminating G string buzz in the nut slot.
Dual-Acton Truss Rod
Our dual action rod adjusts in both directions, allowing back bow or forward bow. This assures correct adjustment range is possible regardless of string tension, extreme climate conditions, or the effects of long term aging. It's also located at the headstock for easy access.
Six-Bolt Neck Plate
Two extra bolts increase mounting pressure of the neck by fifty percent. This makes a stronger neck connection, which improves sustain, tuning stability, and neck alignment.
Pure Tone Jack
All Reverends use an upgraded jack by Pure Tone Technologies. A standard jack has single contacts, but the Pure Tone jack has dual contacts for improved grip, audio signal and reliability. The most dependable guitar jack available.
Treble Bleed Circuit
All Reverend guitars have a treble bleed circuit, preserving the treble when you roll back the volume control. When you roll back a standard volume control, the tone loses treble and becomes dull sounding. Now you can turn down and still sound great!
10% Pots
We use Alpha control pots with a +-10% rating. While a typical pot is +-20%, our pots are built to tighter specifications, making them more consistent. Typically used in expensive boutique guitars, but standard issue in all Reverends.
10% Poly Caps
We use caps with a +-10% rating, while a typical cap is +-20%. Our caps are made to tighter specifications, so they're more consistent. Made of polyester, they're also longer lasting, and less affected by temperature than cheaper ceramic caps. Typically used in expensive boutique guitars.
Played By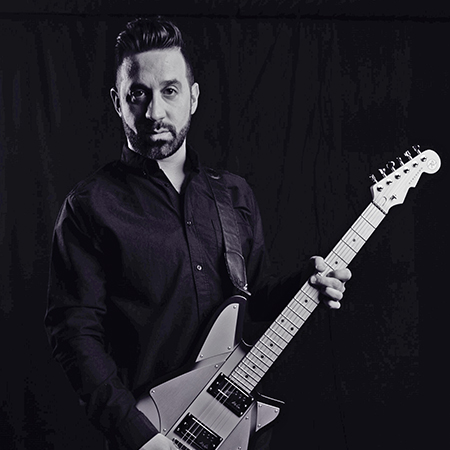 Joshua Fiedler
The Juliana Theory, Pack
Les Priest
Lany - Photo: Thomas Wood
Rafael Damage
Producer